About Us
With twenty-eight years in the Auto Electrical industry Greg Lewis (owner operator) has a real passion for auto electrics.
In the first five years of business North Harbour Auto, Air & Electrical Ltd began fleet maintenance & safety/equipment installations for large fleet companies such as Electrics, Ritchies, NZ Sugar & North Shore Council to name a few. When completing work for such organisations, the company became well versed with dealing with fleet/lease management groups.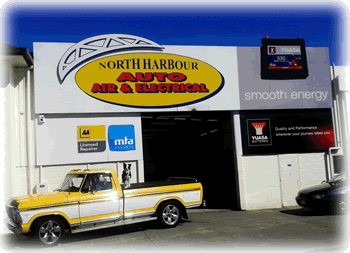 We also cater for the individual customer, no job is too small. The workshop is fully equipped to tackle any job that has an engine or a wire attached. We have two hoists available and can do anything from a basic service to a dash out AirCon repair. We can tackle your boat, trailer, caravan, golf cart, tractor and horse float too.
North Harbour Auto, Air & Electrical Ltd was proudly awarded 'Yuasa Club Member' 2009.
Greg is a qualified auto electrician of twenty-eight years. We have four qualified electrical tradesmen, two qualified mechanics, an electrical labourer and apprentice on staff. North Harbour Auto Air & Electrical prides itself on the diverse qualities of its well-equipped and regularly trained staff that look forward to helping you with all your electrical, mechanical, air conditioning and health and safety requirements.